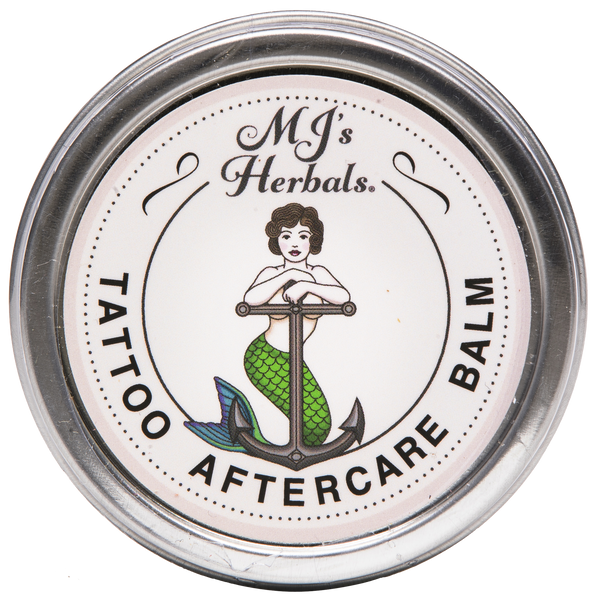 PRODUCT DESCRIPTION: MJ's Herbals® has formulated a tattoo aftercare balm that has been extensively "road tested" on tattoos for over a decade. Use our balm with confidence; the results have been incredible! We have many happy and satisfied users. MJ's Herbals balms are herbalist formulated and made using dedicated state of the art equipment in our own production studio from start to finish. We infuse our balms for 6 weeks or more in organic olive oil for its skin loving properties and shelf stability. Our herbs are grown in the USA to insure no pesticide spraying at the borders. Our beeswax is fresh from the hive from trusted sources. It is unprocessed and retains its healing vitality. We are obsessed with quality at every stage of the process so that we may bring you the very best we can possibly offer.
Our 2 ounce tin of MJ's Herbals Tattoo Aftercare Balm contains:
INGREDIENTS: Certified organic calendula blossoms, certified organic Oregon grape root, certified organic marshmallow root, certified organic olive oil; unrefined propolis beeswax; and certified organic tea tree oil.
DIRECTIONS: Spread lightly over fresh tattoo to promote optimum care while the skin heals. Caring for a new tattoo is generally straightforward. Every artist gives instructions which can vary slightly. Our advice is to follow your artists instructions. As a courtesy, we have included some basic instructions here: After removing your bandage, wash gently but thoroughly with warm water and mild, unscented soap. Pat dry with clean towel and apply MJ's Herbals® Tattoo Aftercare Balm.